Headed by a globally renowned dermatologist and cosmetologist, SunShine Skin clinic prides itself in delivering non-invasive skin tightening procedures such as Thermage and High Intensity Focused Ultrasound  (HIFU) at an unmatched quality and precision standards and highly cost-effective prices.
We promise delivery of remarkable and incredible results through access to state-of-the-art equipment, most advanced procedures and through a team of highly skilled and experienced professionals holding tremendous expertise in performing procedures ensuring the highest precision.
Non-invasive/non-surgical skin tightening procedures have gained immense popularity over the past few years owing to their tremendous potential for tightening up loose skin, eliminating wrinkles and fine lines from face, neck, arms, etc and for treating sagging skin.
At SunShine Skin Clinic, we endeavor to contribute in maintaining the youthfulness of your skin via our advanced and unique skin tightening procedures performed to highest accuracy to tremendously enhance the appearance and quality of your skin in the safest way possible.
Why Do you Need Laser Skin Tightening?
With aging or excessive sun exposure, the balance between production and destruction of collagen get disturbed leading to a reduction of collagen cells and the diminished ability of our skin to replace damaged collagen cells resulting in premature aging signs in the form of fine lines, wrinkles, and eventual skin loosening. Laser Skin Tightening serves effective in tightening up the loose skin by heating up the collagen in deep skin layers to stimulate natural collagen production in the skin and enhance the overall skin appearance by facilitating a smoother and improved skin texture.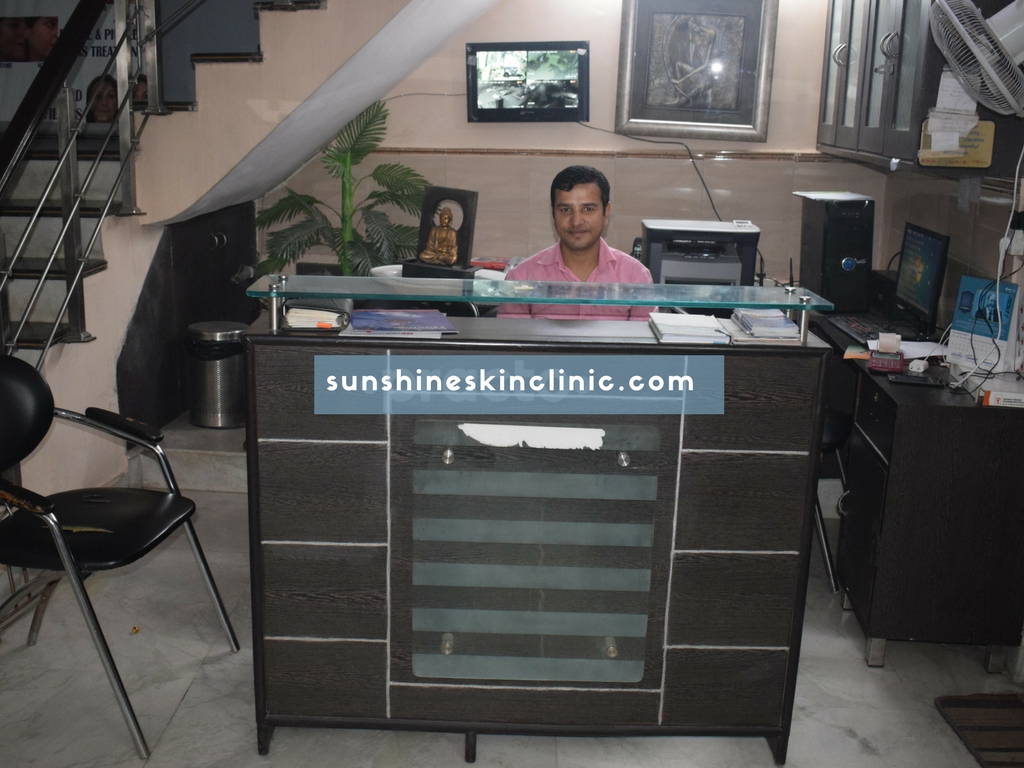 High Intensity Focused Ultrasound (HIFU)
HIFU (High-Intensity Focused Ultrasound) is a safe and effective non-invasive procedure that utilizes ultrasound technology to stimulate the collagen response. It represents the only FDA approved treatment for skin tightening and lifting, specifically on the face and neck muscles. It is a breakthrough procedure that utilizes high intensity focused ultrasound energy for generating low levels of heat in the targeted tissues to stimulate new collagen production and facilitate tissue rejuvenation. HIFU serves effective in improving the tone and all facial features such as eyes, cheeks, chin, mouth, and skin. It delivers remarkable and long-lasting benefits of skin tightening, lifting and facial firming. It serves as an excellent procedure for treating sagging skin and offers skin enhancement around the eyes including a lifting of the brow line to reduce droopiness on the eyelids and providing an open and more refreshed look to the eyes in general.
It is a safe and effective skin tightening and lifting procedure that targets deeper depths than Thermage and works even when the skin quality is poor and in cases of significant laxity.
The results achieved through HIFU become apparent 3-6 months after treatment and lasts up to several years.
Thermage
Thermage is a non-invasive skin tightening procedure that utilizes radiofrequency energy to deliver heat to stimulate collagen remodeling. This procedure achieves skin transformation by targeting the skin dermis and serves a viable option for patients with good skin quality and density. This procedure addresses a diverse range of skin imperfections that result from age and environmental factors.  It initiates skin contraction and tightening by heating up the skin dermis consequently promoting lifting of the face, cheeks, brows without surgery or downtime. This procedure delivers remarkable results in terms of skin tightening, smoothing and toning of unsightly bulges, dimples and wrinkles on face and body and achieving facial contouring for a slimmer, V-line face. The procedure is painless and lasts for one to one-and-a-half hours varying with the location being treated, size of the area being treated and condition of the skin.
Patients tend to experience continued improvements and contouring for up to 6 months and sometimes longer. This procedure is used to smoothen, tighten and enhance the overall skin appearance in areas such as eyes, face, abdomen, arms, buttocks, lips, thighs and hands.