Sunshine Skin care clinic is the leading and the most trusted brand for birth mark removal in Delhi. We have carved a niche for ourselves in birthmark removal services using Fractional CO2 laser by delivering incredible and impressive results to our clients assuring 100% customer satisfaction and providing them value for money. Headed by a globally renowned dermatologist, we are a team of highly skilled and experienced doctors possessing tremendous expertise in performing birthmark removal procedures with the highest accuracy and perfection.
Our access to state-of-the-art equipment, most advanced procedures and immense expertise and prowess of our professionals have helped us deliver birthmark removal procedures at an unmatched quality and perfection standards and highly cost-effective prices.
What are Birthmarks?
Birthmark represents a blemish on the skin that is present from the moment of birth or can be referred to as a benign irregularity in the skin of a neonate. Birthmarks are either vascular or pigmented. Pigmented birthmarks result in cluster formation of pigment cells that consequently imparts a brown color to the skin while vascular birthmarks result from abnormal skin blood vessels that impart a red, pink or purplish discoloration to the skin.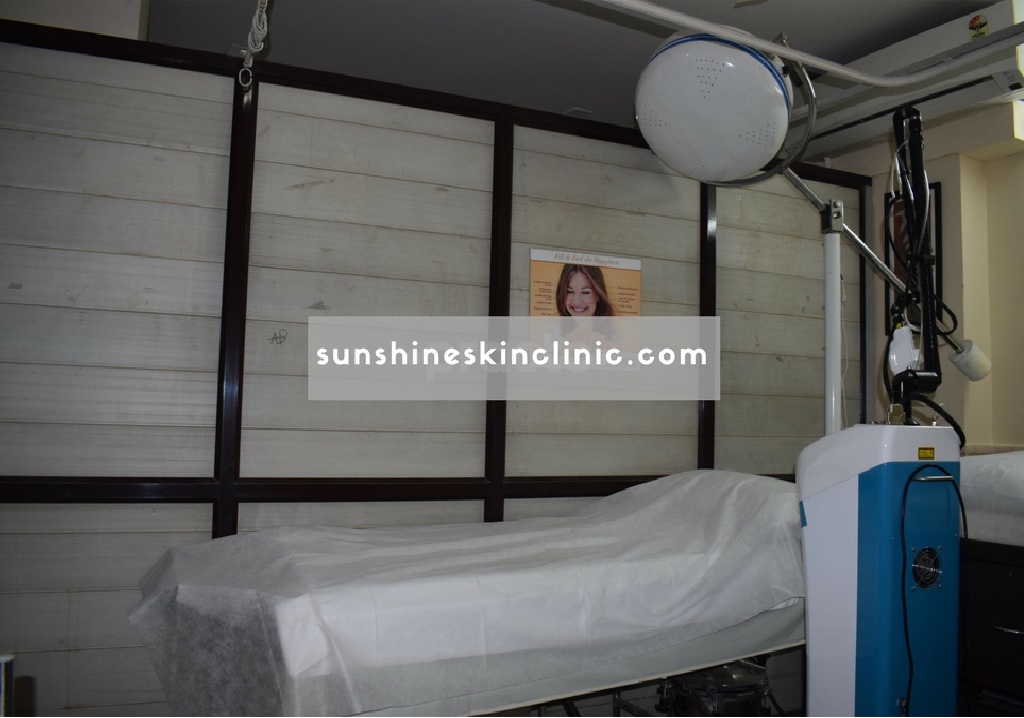 Why should they be treated?
Birthmarks on noticeable parts such as the face, neck, arms, ears, etc affect the appearance of the individual and lead to lower self-esteem. Birthmarks can pose serious health problems while some of them are also hereditary.
Why should you opt laser treatment for their removal?
Different treatment options are available for their removal including lasers, surgery, medicines and cutaneous steroid injections.
Benefits of Laser Treatment
Virtually Painless procedure requiring no anesthetic/Minimum level of Traumatism
Short-Term Procedure
Safe, non-invasive procedure
No risk of inflammations
No medical treatment required before the Therapy
Relatively Short Recovery Period
Reduced Downtime
Relatively safe with nominal risk of scars, infection and pigmentation alteration
How Does Fractional CO2 Laser Work?
Fractional CO2 laser technique is the latest breakthrough in cosmetic skin rejuvenation that works by generating precise zones of laser coagulation in the skin, heats up the deeper dermis and the heat stimulates the production of new collagen.  Laser beams are fractionated into columns and are scattered on the affected area while minimizing the damage to the surrounding tissues to promote faster recovery.
Fractional CO2 laser treatment when tuned to lower energy settings serves effective in the treatment of fine lines, wrinkles, acne, scars, dyschromia, tightening, skin resurfacing, etc. The technique has the potential to substantially enhance the appearance of the skin and guarantees smooth and younger skin by improving its structure and tone. The technique serves highly effective in treating both superficial and deep scars and skin resurfacing/rejuvenation since the fractionated laser beam penetrates deep into the skin and the wavelength of the impulses emitted gets easily absorbed into the skin surface.
Fractional CO2 laser has gained immense popularity over the past few years owing to its effectiveness in removing birthmarks from face, neck, arms, abdomen, nose and other body parts at minimum discomfort possible.
How many Treatment Sessions are required?
The number of treatment sessions depends upon the severity of the scars or the depth and size of the birthmarks. Multiple sessions may be required for complete removal ranging from 8 – 20.
What is the Recovery Time?
Recovery Time is relatively short with swelling or discomfort generally fading in about a week. The treated area becomes dark purple that lasts for about 10 days to 6-8 weeks post the procedure.
What to Expect after the Treatment?
Birthmarks require several sessions to lighten up and there are chances of its recurrence. Results vary from person to person and the affected skin must be kept away from sunlight and UV rays and sunscreen should be applied to it before stepping out. Laser birthmark removal serves effective in 100% birthmark removal.