Laser Hair Removal in Delhi
Permanent Laser hair removal is the ideal way to get rid of unwanted hair permanently. The services used are ND Yag laser that is US FDA approved and specifically customized to Indian skin.At Sun Shine Skin Clinic, we believe it's important to review your progress and ensure you know how to maintain your hair-free skin and offer you best laser hair removal in Delhi.
Laser hair removal in Delhi works best in lighter skinned, darker haired patients. Because the target chromophore in hair follicles is melanin pigment, less laser energy is absorbed by the skin and more by the hair follicle. Tanned skin also "robs" laser energy as it passes through the skin to the hair follicle. The Diode lasers for hair reduction are less dependent on skin color than the ruby and alexandrite lasers because the pigment in the hair clinic is the target for the laser energy, gray or white hair (which lacks pigment) cannot be effectively treated with any laser or light-based device.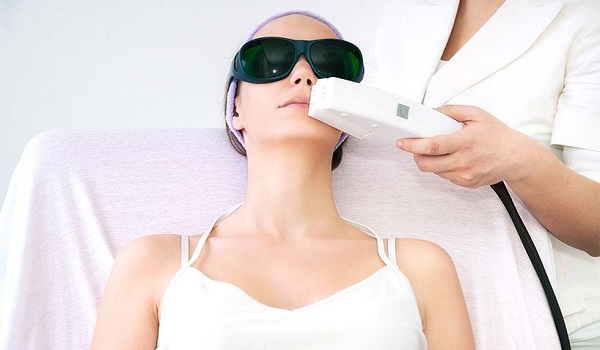 [megatron_heading title="Causes of course hair" size="size-md" text_align="text-left"]
1) Hormonal imbalance like PCOD, thyroid, pregnancy, menopause
2) Obesity
3) Use of steroids etc
Procedure:
Course black hair has a pigment called melanin due to which hair looks black. This pigment absorbs the laser light and transfers the heat to the hair follicle hence destroying it. Hair follicles are usually in three stages of growth-active, transition and resting. A laser is always effective or destroys the active hair follicles. Remaining hair follicles in transition and resting phase stage take around 4-6 weeks to come in the active forms.
Hence patients are called for laser sessions once a month. Hence laser assisted permanent Laser hair removal stops the hair regeneration process and renders ineffectiveness to the ability of hair follicles to produce new hair performed under the supervision of a dermatologist, it offers the desired results without in many ways affecting the surrounding skin. This makes it completely free from any skin concerns like pigmentation.
At last, If you are looking for any kind of solution of skin problem or Laser hair removal in Delhi, feel free to contact us. The best skin specialist in Delhi is ready to help you.
Focus areas- all body parts
Number of sessions- total of 6-8 sessions
Frequency- once a month