Sunshine skin care clinic is the best and most trusted name for laser stretch marks removal and laser tattoo removal in Delhi. We have earned a high repute in the industry through the delivery of incredible and remarkable laser tattoo removal and laser stretch marks removal results at high precision and quality standards and highly cost-effective price ranges. Our access to ultra-modern equipment, most advanced techniques and immense expertise and years of hands-on experience of our doctors help us deliver remarkable results to our clients guaranteeing 100% customer satisfaction and providing them value for money.
We excel in delivering Fractional CO2 laser based tattoo removal and  stretch marks removal procedures at high accuracy rates.
What Causes Stretch Marks?
Stretch Marks result from rapid stretching of weak connective tissue over the skin or occur when the elastic middle layer of the skin known as dermis gets stretched. Puberty, excessive weight gain, and obesity, pregnancy, using steroids for several months, etc are some of the reasons that lead to stretch marks. Stretch marks can appear on several body parts such as the abdomen, breasts, hips, thighs, upper arms or lower back and has a reddish or purplish appearance that gradually turns into glossy skin streaked in silver or white.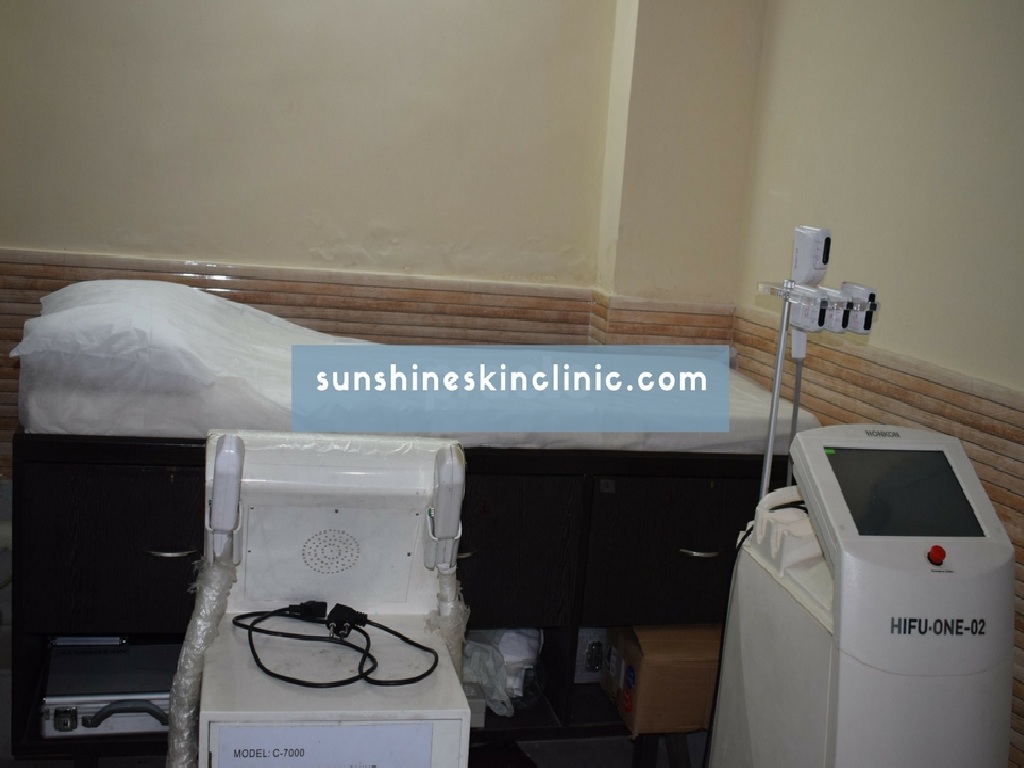 Stretch Marks – Treatment Options
Ointments, topical creams, gels, moisturizers, etc are particularly ineffective in dealing with stretch marks since they offer minimal improvements and results are tremendously slow with them. The Fractional CO2 laser is a breakthrough technology that delivers remarkable results when used for treating stretch marks.
Laser Stretch Mark Treatment – Sessions and Recovery
It requires around 4 – 6 treatment sessions to achieve a substantial improvement in stretch marks. Recovery period varies with different body parts since results become apparent faster on the face as compared to recovery on stomach/thighs/buttocks/legs/back.
Why is Tattoo Removal Difficult, Treatment Options and Why should you opt for Fractionated CO2 Laser Tattoo Removal?
Tattoo removal is quite challenging since the tattoo pigment is injected into the deeper layers of the skin and gets blocked by a tough network of collagen fibers that makes it challenging to get rid of the tattoo pigment without affecting the surrounding tissues.
Numerous options exist for getting rid of tattoos such as Fractionated CO2 laser tattoo removal, surgical excision and chemically destroying the pigment using salts, organic solutions or acids. Surgery as well as chemical procedures are painful and cause scarring while laser tattoo removal is a non-invasive, painless and safe procedure that generates no scars or discomfort to the patient.
How Does Fractional CO2 Laser Resurfacing Work?
Fractional CO2 laser technique serves highly effective to achieve skin resurfacing and for treating stretch marks. This technique works by projecting laser energy microbeams onto the targeted area to break down the skin tissue into smaller areas thereby triggering the growth of new, healthy skin over the impacted area. The technique works by ablating a fraction of the targeted area while leaving the surrounding skin tissues untouched and undamaged. The technique tightens the skin by creating mini wounds and promote natural skin healing thereby improving its texture and tone.
Fractional CO2 laser resurfacing is currently the most preferred and result-oriented cosmetic procedure that promotes skin rejuvenation by stimulating collagen production and removing the damaged outer layers of the skin.
This procedure serves effective in bringing out radiant, smoother and healthier looking skin by treating acne, scars, wrinkles, fine lines, stretch marks, sagging skin and tattoo removal.
Benefits of Fractional CO2 Laser Resurfacing for Tattoo and Stretch Marks Removal
Non-invasive, safe and effective procedure
Remarkable results
Faster Recovery Times
Healthier, Radiant, and Younger looking skin
Fast and Effective Results
Effective for treating wrinkles, fine lines, stretch marks, Tattoo Removal, scars and sagging skin
Reduced Downtime and no significant side effects