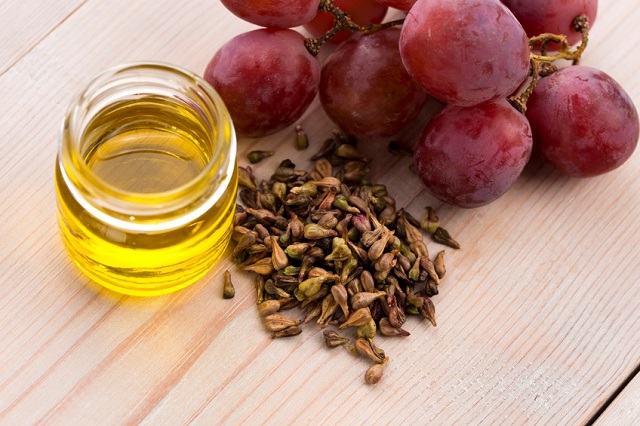 Essential oils are always a trustworthy option when it comes to searching home remedies for getting healthy hair. People usually prefer oils such as coconut oil, mustard oil, olive oil, lavender oil, jojoba oil, etc for getting radiant, beautiful and thicker hair. One such oil that works miraculously for hair and produces amazing benefits for hair is Grapeseed oil.
Though the benefits of other essential oils cannot be ignored, the aspect where Grapeseed oil surpasses its counterparts is in its potential to resolve problems such as hair loss, weakened hair, dandruff, etc.
We are sure that majority of you will be unaware of the potential benefits Grapeseed oil can provide to your hair.
Through this blog, we will familiarize you with the ways in which Grapeseed oil works for producing healthier, stronger and more attractive hair.
What is Grapeseed Oil?
As suggested by its name, Grapeseed oil is extracted from the tiny seeds of grapes and is produced as a byproduct of winemaking. The oil came into existence more than 6000 years ago and was widely utilized by the Europeans for dealing with eye and skin related problems.
Grapeseed Oil for Healthy Hair
We will now list down the ways in which Grapeseed oil leads to healthier hair:
1. Moisturizer and Conditioner: Grapeseed oil acts as an effective natural conditioner replenishing the hair with moisture and nutrients. Routine use of grapeseed oil as a part of your hair care regime has proven to lead to stronger, healthier and more radiant hair. It acts as an effective moisturizer and conditioner since it is lighter when compared to coconut or olive oil and will not leave a greasy feel and a lingering scent. Regular application of grapeseed oil keeps the moisture locked in and prevents brittle hair, split ends and frizz naturally.
How to Use It?
You must simply massage your scalp with grapeseed oil and allow it to stand for 20 to 30 minutes before rinsing it off with lukewarm or cold water for an easy deep-conditioning treatment.
2. Treating Dandruff, Dry and Flaky Scalp and Dermatitis: Grapeseed oil is loaded with antioxidants and nutrients that nurture the growth of healthy skin cells and makes it effective for treating dandruff and other dermatological conditions resulting from a dry, damaged and flaky scalp.
How to Use It?
You must apply grapeseed oil onto the scalp and massage your scalp with the oil in circular motions for about 5-10 minutes loosening the skin to allow oil to be absorbed and fostering blood flow. You must allow it to stand overnight or a complete day before rinsing it off with a mild shampoo and lukewarm water.
3. Grapeseed Oil serves effectively in Reducing Hair Loss: Grapeseed oil serves highly effective in reducing hair loss and hair thinning since it is loaded with antioxidants that serve to block the production of DHT which is a hormone that leads to hair loss.
You can also consider using grapeseed oil as a carrier for essential oils that foster relaxation of the hair follicles, thereby preventing hair loss resulting from a hormone known as 'cortisol' that is released when we are stressed.
How to Use It?
For using grapeseed oil to treat hair loss, you must simply mix a few teaspoons of grapeseed oil with one or two drops of jojoba oil and massage it to your scalp for a few minutes.
4. Fosters Hair-Cycle Converting Activities: Everyone must be aware that miniaturization of hair follicles poses difficulty in hair re-growth. It is the hormone known as DHT that causes miniaturization thereby making the follicles smaller and shortening the hair cycle.
Regular application of grapeseed oil onto the scalp has been proven to kickstart the hair cycle by pushing the follicles from the inactive phase to the active hair growth phase.
5. Promotes Quicker Hair Growth by Stimulating Blood Flow: Grapeseed oil has been proven to promote quick hair growth by increasing the blood flow to the hair follicles. This is because blood flow is an essential factor that contributes to hair health and miniaturization of hair follicles occurs when the blood flow is restricted. Massaging your scalp regularly with grapeseed oil prevents miniaturization by blocking the production of DHT and increases the blood flow to the scalp and speeds up nutrients delivery to the hair follicles thereby stimulating hair growth.
6. Promotes Hair Strengthening: Grapeseed oil works miraculously for brittle and weak hair since it is loaded with antioxidants and fatty acids that promote hair and skin growth and strengthen hair from the roots helping to restore its natural strength and shine. This is because grapeseed oil is enriched with Vitamin E which is a potent antioxidant that serves to build tissues and linoleic acid which is a fatty acid that fosters hair and skin growth.
This essential oil works miraculously for anyone witnessing weak and brittle hair since its regular application helps to bring back your hair's natural strength and shine within a very short time span.
How to Use It?
You must take a few teaspoons of grapeseed oil and apply lukewarm grapeseed oil to your scalp while massaging your scalp with the hot oil for a few minutes. You must leave it overnight or for a long duration and rinse it off with lukewarm water in order to get glossier, healthier and stronger hair.
Conclusion: We hope that this blog will educate you on the ways in which routine use of grapeseed oil leads to healthier and radiant hair.